Get Real Health to Help Lead HL7 FHIR® Consumer Centered Data Exchange Connectathon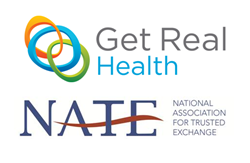 ROCKVILLE, MD
(PRWEB) 
SEPTEMBER 06, 2017
Get Real Health and the National Association for Trusted Exchange (NATE) are pleased to announce their enthusiastic participation in a new effort aimed at making it easier for patients to take control of their health data. Designed for easy implementation, HL7's Fast Health Interoperability Resources (FHIR®) standard combines the best of earlier HL7® standards with the latest web technologies for health interoperability that is astonishingly quick and cost-effective to develop.
The HL7 FHIR development community recently announced a brand new development program focused on consumer engagement: the Consumer Centered Data Exchange (CCDE) Track. With leadership from Graham Grieve, NATE and Michigan Health Information Network Shared Services (MiHIN), Get Real Health will be part of a small, select group of nine leading consumer controlled apps (CCAs) and electronic medical record (EMR) vendors participating in a two-day CCDE Connectathon, September 9–10, 2017, leading up to the HL7 31st Annual Plenary & Working Group Meeting in San Diego. HL7 Connectathons bring together an elite group of leading FHIR developers to explore interoperability via live-testing scenarios.
"HL7 and the FHIR development community consider consumer access to be a national priority and we couldn't agree more. We're looking forward to this Connectathon, and value the opportunity for hands-on learning by doing," said Get Real Health CEO and Founding Partner Robin Wiener. "We believe consumers should have easy access to all their health information, and we view events like this as a vital step toward ensuring greater interoperability," said Wiener.
Connectathon participants will utilize FHIR-based resources and related methods to examine how existing specifications support CCDE and address any gaps. Specifically, CCDE Connectathon participants will focus on three different consumer engagement use cases: Consumer Access (healthcare provider to patient via their choice of app), Consumer Directed Exchange (patient to provider via the patient's app) and Consumer Initiated Exchange (exchange between providers as directed and authorized by the patient). Get Real Health is very excited to be working on the Consumer Access and Consumer Directed Exchange use cases by leveraging existing Smart on FHIR (SoF) capabilities.
"The Office of the National Coordinator for Health IT (ONC) has identified HL7 FHIR as a rapidly emerging standard that is already being put into production at top healthcare organizations," observed Christina Caraballo, MBA, Director of Healthcare Transformation at Get Real Health and member of NATE's board of directors. "We must continue to ensure that the best interests and needs of the patient/consumer are integrated as we continue to move ahead with FHIR. This work will help set the stage for the future of consumer mediated data exchange by testing new and exciting ways for data to flow so it is available when, where and how people need it most."
About Get Real Health
Get Real Health combines a world of new information from patients, devices and apps with existing clinical data to help individuals and healthcare professionals engage and empower each other. By giving providers and patients the information and tools they need to work together, we help our customers meet their ever-changing patient engagement needs. We help them deliver value-based care, improve outcomes, activate patients, increase patient loyalty and satisfaction, all while meeting regulatory requirements. Visit: http://getrealhealth.com/.
About NATE
The National Association for Trusted Exchange (NATE) is a 501(c)(3) not-for-profit membership association focused on facilitating consumer access to health information and enabling trusted exchange among organizations and individuals with differing regulatory environments and exchange preferences. NATE's membership is open to government entities, non-government organizations, associations and individuals. Visit NATE online at http://nate-trust.org.
About HL7
®HL7 and FHIR are registered trademarks of Health Level Seven International, registered in the U.S. Patent and Trademark Office.