Alan Maxey Joins Get Real Health as VP Sales
"I wanted to come to a company that was really disrupting healthcare and collaborate with them to build on their strong foundation for growth."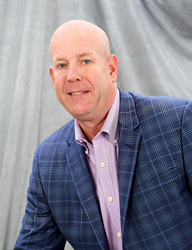 ROCKVILLE, MARYLAND (PRWEB) AUGUST 22, 2017
Get Real Health recently welcomed Alan Maxey, former IBM Watson (formerly Phytel) Area Vice President, Value Based Care, as the digital health company's new Vice President of Sales. Maxey brings 23 years of experience to the table as he works to build additional c-level relationships and power Get Real Health's growth to new heights.
"I was very impressed with Get Real Health's company culture and passion to make a real difference in digital health," said Maxey. "I wanted to come to a company that was really disrupting healthcare and collaborate with them to build on their strong foundation for growth."
Maxey has held key sales leadership positions with an impressive list of companies during his nearly two dozen years in the health IT industry since graduating from Virginia Tech. In addition to his position at IBM Watson, career highlights include: Client Executive, Provider Market for OptumInsight; Senior Executive, Corporate Accounts for McKesson Provider Technologies; Senior VP of Sales and Business Development, Health Information Technology for CBay Systems and Services; and Regional VP of Sales, Health Information Technology for HealthScribe, Inc.
"We are thrilled that Alan has joined our team," said Get Real Health CEO, President and Founding Partner Robin Wiener. "He not only brings new leadership and focus to our sales team, he also offers unique industry insight, a strong network, and refreshing energy to our growth plans."
Get Real health employs more than 75 people in Maryland and around the world. The company has been named a "Best Place to Work" by the Washington Business Journal. As healthcare organizations shift from fee-for-service to value-based care, Get Real Health is well-positioned for continued growth.
About Get Real Health
Get Real Health combines a world of new information from patients, devices and apps with existing clinical data to help individuals and healthcare professionals engage and empower each other. By giving providers and patients the information and tools they need to work together, we help our customers meet their ever-changing patient engagement needs. We help them deliver value-based care, improve outcomes, activate patients, increase patient loyalty and satisfaction, all while meeting regulatory requirements. Visit: http://getrealhealth.com/.